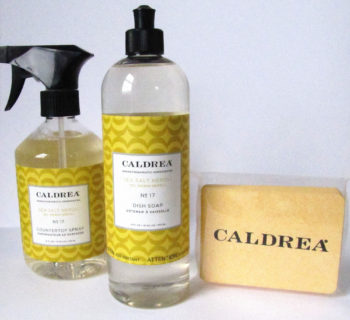 Caldera Hostess Gift Set (Sea Salt Neroli)
Our Caldrea Sea Salt Neroli set is the perfect hostess or housewarming gift.  It includes Dish Soap Liquid, Countertop Cleanser and a pack of natural French Pop-Up Sponges. The Dish Soap is rich, concentrated and an earth-friendly way to clean dishes, pots and pans, while the Countertop Cleanser is a naturally fresh way to clean kitchen surfaces. A perfect way to introduce a friend to Caldrea, or to try a new fragrance for yourself.
Sea Salt Neroli includes Lemon, Neroli, Cardamom and Juniper essential oils so it's a wonderful fragrance to use year-round.  It provides a crisp, clean fragrance that is refreshing.