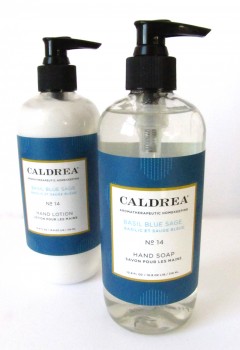 Caldrea hand soap set (Basil Blue Sage) – hand soap & hand cream
Basil Blue Sage includes Basil, Sage, Thyme, Spearmint, Rosemary essential oils and is a classic fragrance to use year around.  It provides a subtle, warm fragrance that is timeless and elegant.
The essential accompaniment to your kitchen or bathroom sink.  With Caldrea Basil Blue Sage Hand Soap, hands are soft, clean and fragrant as the bottle brightens kitchen or bath. Aloe Vera Gel, Olive Oil and essential oils cleanse and condition.  While Basil Blue Sage Hand Lotion make hands soft, smooth and addictively scented. Hands are well cared for with Shea Butter, Aloe Vera and Glycerin plus Caldrea's essential oil blends. This light formula is ideal for frequent application throughout the day.