It's the most wonderful time of the year. If we're honest, this time of year CAN be wonderful…but it frequently causes stress. Thanksgiving, parties, travel, planning, baking, shopping….they can wreck havoc on our schedules and our peace of mind, if we let them.

For years my firm offered our Trees with Ease Christmas decorating services. As our client base grew, I discovered that I had little energy to decorate my own home so I began limiting our services to exclusively serve our clients. That in conjunction to the following tips provided me with peace of mind during the busy holiday season.
Focus
First, keep the 'main thing' the MAIN THING! Focus on what you enjoy doing – perhaps it is decorating, baking or entertaining. Prioritize THAT in your calendar and don't be afraid to say NO to things that prevent you from focusing on what you ENJOY. Doing things that bring you joy will make you happier and more relaxed.
Outsource
Money can't buy happiness but it CAN buy time! Recent studies have found that people who spend money on time-saving services such as housekeeping, catering and decorating obtain greater life satisfaction and happiness than those who spend the same amount on material goods.
Organize
Third, I organize and prep as many things as possible. I begin by organizing my Christmas decorations the year before. Crazy? Not at all. You see, the key to speedy and streamlined Christmas decorating begins when you take the decorations down.
Although I have a degree in Interior Design, I was an event planner for many years. I learned the importance of clear communication, logistics and strategic planning. If you think planning a renovation is hard – try planning a wedding!
My design firm understands the importance of planning. We have 17 years of repeat and referral clients, which reflects our long track record of delivering projects on-time and on-budget.
Checklists are your FRIEND! I've complied by favorite entertaining checklists to share with you.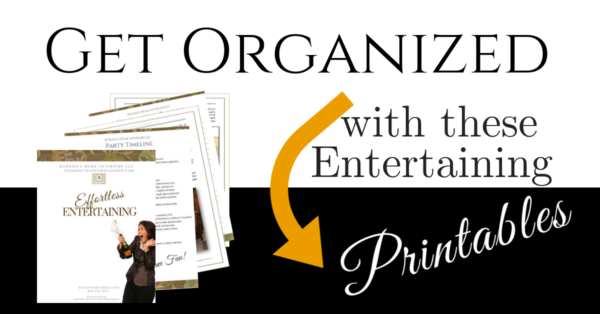 Be kind to yourself and give yourself the gift of CALM this holiday season.
Have a well-designed holiday!