We're hiring!
UPDATED: We WERE hiring.  Our little RHILLC family is now complete.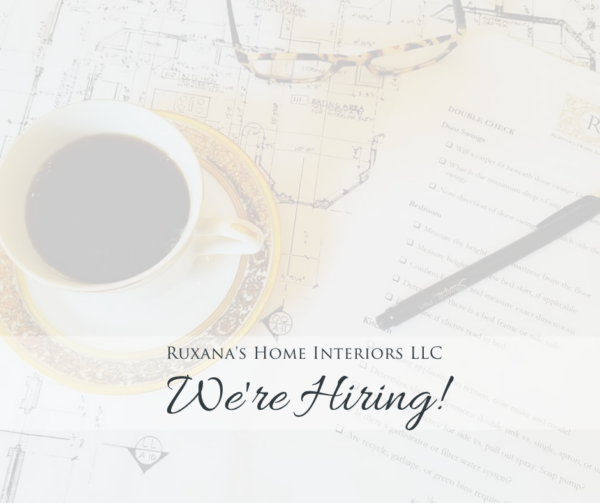 Ruxana's Home Interiors LLC is an established boutique interior design firm based in central Vermont.  We serve clients in several states throughout the Northeast and Florida. We're seeking a highly motivated team player to join our team!
We're looking for an AWESOME ASSISTANT who will appreciate our core values of building lasting relationships with clients, is a life-long learner, and someone who wants to help us in our mission of spreading beauty and kindness.
You must be eager to develop a working knowledge of the design industry and our multifaceted process which runs from design through installation.  This is not a design position but it plays a vital role in our project fulfillment by providing support to the CEO, designers and clients.  These include integral parts of a project including: creating detailed estimates in a professional, effective and timely manner;  communicating and creating documents for successful and effective implementation including documents hand-offs to contractors, sub-contractors, clients and our full-service installation team to ensure deadlines and budgets are met.
If you're someone who is organized, has the ability to work on several projects at once, and enjoys taking ownership of their tasks and responsibilities, you'll absolutely love this position!  Quality work, above satisfactory customer experience and enjoying your work are paramount – we want you to love your job as much as we love ours!
Qualifications
Must have a deep understanding of the importance of communication, timeliness and customer-service.
Organized, disciplined and systematic with excellent written communication skills.  Comfortable with numbers including creating proposals, detailed estimates, entering pricing in accounting software and creating projected project timelines.
Possesses strong qualities of effective time management and works with a sense of urgency.
Ability to follow, improve or create new processes to increase effectiveness.
Possesses a solutions-based mindset. At RHILLC – we are PROBLEM SOLVERS!
Proficient computer skills in word, excel and power point.  We will provide paid training for programs specific to our firm and our industry.
Must be open-minded and flexible.  We're a small, dynamic firm and team members must have the ability to pivot, grow and learn.
Some of the benefits of joining our team:
Flexibility – work from anywhere!  This is a virtual position so you can work from the comfort of your home with tremendous flexibility of days and times you work.
We offer paid training, support and everything the right person needs to excel in this position.  We're passionate about personal growth, and we hire people who are, too!  In fact, we provide an annual allowance for personal development.
Complimentary access to all digital products, classes and courses created and offered by RHILLC.
We provide design support for your personal residence and you'll receive access to hundreds of exclusive trade-only vendors at wholesale pricing.
The knowledge that you are working in a woman-owned small business doing work that matters: helping clients live better lives.   A work environment where members feel valued, accepted, and supported regardless of their race, religion or sexuality.
If you're interested, please send your resume and let us know why you'd be a great addition to our team – assistant@ruxanashomeinteriors.com