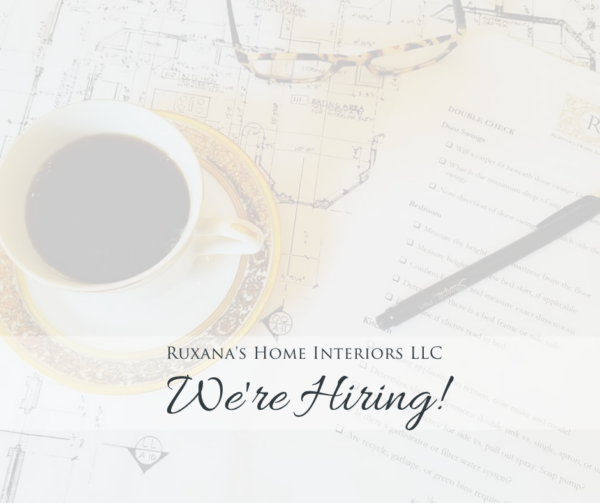 BUSINESS SUPPORT SPECIALIST
This is a detailed job description as we are committed to finding the right person with the right aptitude, values, and energetic alignment for this vital role. Please consider this and read it carefully before you apply.  Experience is preferred but for the right person, it is not a requirement.
About us 
We are a creative and dynamic interior design firm focused on helping our clients, students and community.  

Ruxana's Home Interiors is a boutique interior design firm that specializes in designing mountain vacation homes.  We serve clients in 7 different states.

We are focused on our client experience with in-person clients, building our brand as well as creating, marketing and selling online programs.  

Our greatest area of focus in 2023-2024 is expanding the online program offerings and increasing awareness of the importance and impact that

a well-designed home has on health and well-being.  

We work flexibly and prioritize communication and connection.  This company operates with a 'heart first' philosophy while delivering extraordinary results for our clients, students, and community.

Our team loves providing an excellent customer experience with an attentive, generous heart. 

As a company, as individuals, and as team members, we value and pursue personal growth and learning.

We are problem solvers, not problem finders. We move fast and we get things done! We consistently assess what is and is not working in our business.  We discard the things that aren't serving us and we revamp what is, so we can move forward, quickly, and serve our clients to the best of our ability.

You can find us at www.VermontInteriorDesigner.com
About you 
You are a heart-centered, trustworthy, and results-focused person who thrives on organization and creating systems.

You are the all-star of our client experience, admin, and business operations.  You radiate a calm energy and work hard to create magic for our clients, students, and community.

You work at your best in an environment where you are trusted to get the job done, are autonomous, and are happy to work flexibly.

In your role with us, you will NEVER say "That's not in my job description," "Because we've always done it that way," or "That can't be done."

You are unflappable, can juggle many tasks at once, and provide impeccable support without your feathers being ruffled.

You are technically savvy, a fast learner, and willing and able to get up to speed on all our operational systems.

You are keen to grow with the business and be committed to its success.

You are kind, patient, and

LOVE

problem-solving.  

You are comfortable working with a goal-driven, right-brained, creative person with high energy. 

You thrive on processes and efficiency and can create and implement systems and SOPS.

Possesses effective time management and works with a sense of urgency.

Must be open-minded and flexible. This is a small, dynamic firm and team members must be excited about and have the ability to pivot, grow and learn.

You're unflappable. 
About the role
Be the director of first impressions from our digital front door through our entire client experience. Assist our program students and community when they need assistance – whether they need help with their registration, have a tech question, or want general information about the program. Our community will end up knowing you and loving you as you support them throughout their interior design journey. 

Promptly respond to customer needs and requests via email & occasionally via phone. Deliver exceptional service in a fast-paced environment, responding to all emails within the same day as standard.

You thrive on being responsive to clients and students in the most efficient manner possible and with great care and kindness.

Support our clients and students in our digital and online community spaces. You will start discussions, and ensure our digital and online community spaces are welcoming, supportive and engaging.  

Learn the various technical systems and software that we use to create & deliver our interior designs to clients as well as our online programs and digital products.   

Operate the back end of the office via systems, SOPs and streamlining processes.  Finding ways to upgrade or streamline our client experience or deliverables. 

Support the CEO directly with any program or business requirements. 

General operational support across all business areas as required – and an opportunity to get involved in exciting projects and build your skillset. 

Must send CEO weekly project updates and meet virtually 5-6 times per month.  

The role is 10 hours per week to begin, scaling during busy periods and with a view to consistently work 20-25 hours in the near future. Must be able to accommodate this flexibility. 
What's essential?:  
We are looking for an efficient, passionate, and committed all-rounder. No task is too small and you see the importance in the tiny details as well as the big tasks.

Adaptable and can easily work with a creative, high-energy, ambitious CEO.  

Confident and capable to take on a big project, break it down into smaller steps, and can eagerly tackle the project without oversight.  

Comfortable working with numbers including creating pricing proposals, detailed estimates, entering pricing in accounting software, creating projected project timelines and working with budgets.

We're looking for someone who will appreciate our core values of building lasting relationships is a life-long learner, and someone who is thrilled and excited to help us in our mission of spreading beauty and light.  

Professional, kind and dedicated to our clients, students and community.  Willing to go the extra mile so our community feels special and looked after.

An air-traffic controller who is extremely organized, thorough and is able to learn quickly. A dedicated problem solver committed to following through.

Has strong communication skills, both written and verbal.

Comfortable learning, operating, and troubleshooting technical problems.

A natural self-starter and independent worker with strong interpersonal skills.

Confident, resourceful and capable of self-managing and multi-tasking in a fast-paced environment.

Fantastic at executing with speed and decisiveness and understanding how to manage priorities. Calm and focused under pressure, changing conditions, and high expectations.

Adaptable and ambitious. You will enthusiastically take on other assignments as needed to support our team.

You can work with virtual assistants, and contract workers to oversee and manage projects – both large and small. 
What's in it for you? 
Experience in a fast-growing, mission-led company where things change daily, new ideas come to life in a matter of weeks and everybody is fully invested.

Work with a passionate, momentum-driven CEO that moves fast and brings ideas to fruition quickly. Enjoy the dynamic nature of the organization as you help fulfill our mission of helping our clients, students and community live better lives through thoughtful and intentional interior design.

The ability to be a core part of exciting work while working from anywhere, with a flexible schedule.  Allowing you to travel, focus on your family or care for a loved one.  Endless opportunities for your future growth as the business and mission grow.

Contribute your knowledge and skills to become a core part of visionary and exciting work.  Be part of something remarkable that offers endless opportunities for growth – both personally and professionally.  

The chance to stretch professionally. If there is a skill set or topic you're interested in, this is the place to learn and challenge yourself.  One of our core values is "We believe in personal growth and learning."

Your voice will be heard! Every one of our team members has the chance to give input, create value and make a big impact on the future of our company. 

A friendly team behind you that is cheerleading you, supporting you, guiding you and championing you. 

Work from anywhere (Atlantic, Eastern, Central or Mountain time zones preferred) This is a virtual position so you can work from the comfort of your home with tremendous flexibility of days and times you work.  Must have week-to-week consistency for meetings, to create rhythm & synergy and to keep momentum with projects but otherwise, we only care that all the work is done.

A compensation package that matches your skills and experience level.

Opportunity to grow and develop with a woman-led company that has been in business for 21 years.

A company that values compassion and kindness above all else.  

A CEO that is respectful or your time off and understands that there is a life outside of work. 

The knowledge that you are working in a woman-owned small business that helps our clients live better lives. A work environment where members feel valued, accepted and supported regardless of their race, religion, sex or sexuality.   
The Tools We Use Daily: 
ClickUp

Dubsado

Google Workspace

Kajabi & WordPress

Studio Designer

Facebook, LinkedIn, Instagram & Pinterest

Planoly & Tailwind

Constant Contact 

Canva
Please do the following: 
Here's where your unicorn magic comes in….strong candidates will be assigned a project (your time will be paid.)  After successful completion, we will conduct final interviews. 
We look forward to receiving your application.