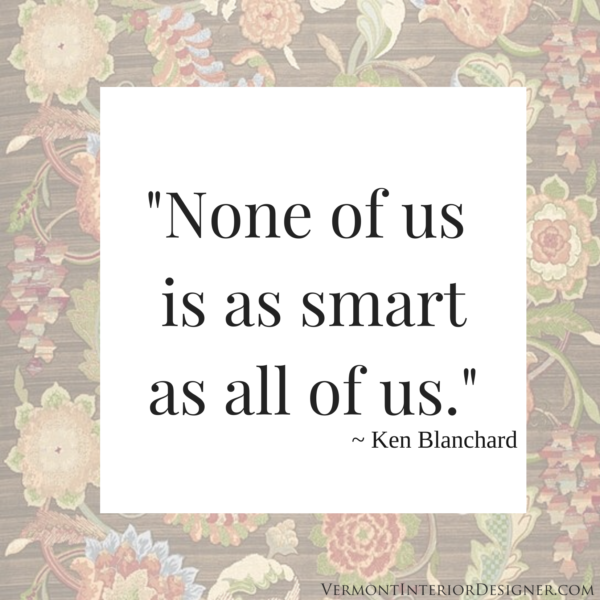 "None of us is as smart as all of us." ~ Ken Blanchard
I have had the pleasure of working with preeminent builders and architects and I have great respect and admiration for the work they do. My firm works best with open-minded and collaborative professionals. Last Friday I attended a building team meeting for a project we are working on. During the meeting, the architect said that the projects that have the best results always have a designer. (Note: people often interchange "interior decorator" with "interior designer" but they are not the same.)
There is overlap in the role of an Architect vs Interior Designer but here is a simplistic breakdown:
None of the these are firm 'rules' but this is a helpful visual.
Architects vs Interior Designers
Generally speaking, architects:
Design the whole structure of a home (its exterior and interior structure)
Include electrical and plumbing requirements in each plan
Focus on the home's exterior design, and also its interior architecture, trim, millwork and ceiling finishes
Generally speaking, interior designers:
Design the look/style of a home's interiors (usually all rooms) including hard elements such as doors and hardware
Design backsplashes, choose all tile, flooring and lighting (fixtures and placement)
Focus on selecting interior materials, finishes, hardware, furnishings, textiles, drapery/window treatments, paint color, wallpaper and accents
Creates furniture plans and elevations so builders knows the EXACT locations (more on this will be provided in a later post)
Builder vs. Architect
I use the words builder, contractor and general contractor interchangeably. However, not all general contractors are builders. Because I am based in Vermont, the vast majority of general contractors that I work with are also builders. Meaning, they are intimately involved in the building process. When I have worked in (non-rural) states, I discovered that most projects are run by a general contractor who is the 'big picture person.' They have site supervisors who act as their eyes and ears and they visit a project site periodically. They run multiple jobs at once. Builders tend to be smaller and work on fewer projects at one time.
Generally speaking, builders:
Provide client and team communication
Forecast budgets
Provide mechanical design
Hire and schedule tradespeople
Provide construction calendars and timelines
Order and inspect building materials
Provide quality standards and observe building codes
Do I need an architect or a designer?
If you are planning on construction that involves major exterior changes, new construction or a renovation that involves the roof line, then an architect is the first person to contact.
If you aren't moving load bearing walls or you are renovating a kitchen, bathroom, or an unfinished basement, then you need an interior designer. Professional interior designers will know when you need to work with an architect and she (or he) will happily make recommendations.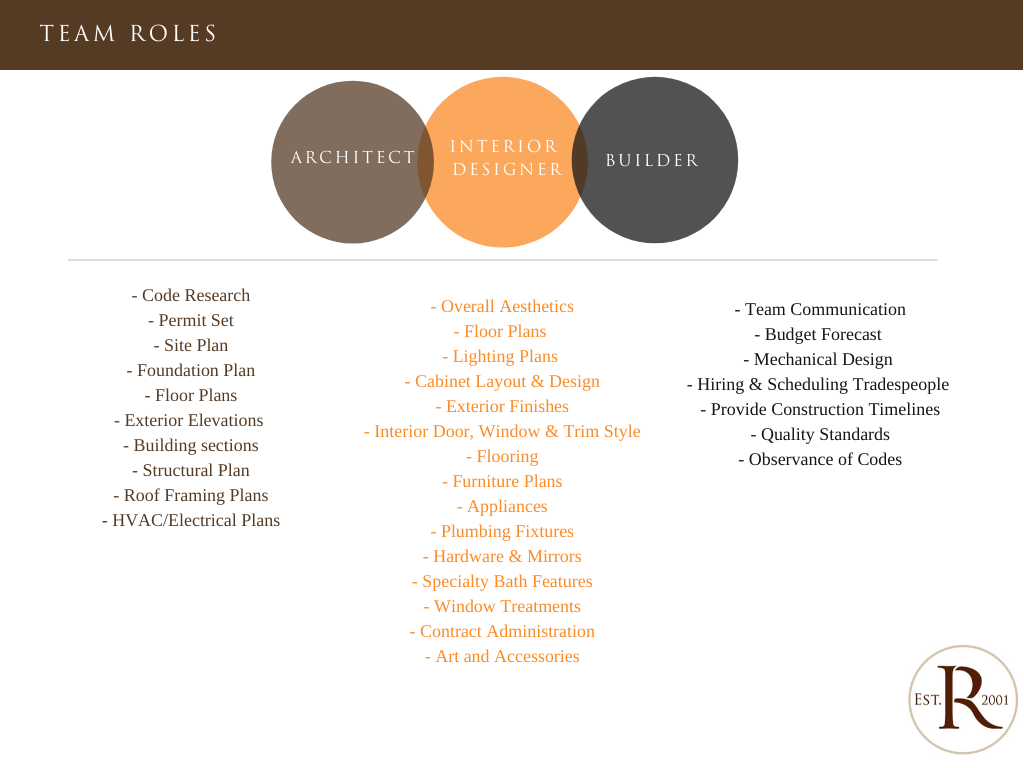 If you are unsure if you need an architect, interior designer or a builder then schedule a complimentary call to discuss your needs.
Have a well-designed day,