I first began working with my Saddle Ridge clients in 2016 when they hired me to design their garconniere (aka man cave.)  Over the years, we've worked on a variety of their projects and when they contacted me to help them with an addition over their garage I said HECK YES!
My clients collaborated with an architect who planned the large addition to seamlessly integrate into their existing home.  With plans in hand, I set about designing the space. Something people don't realize is the plans from the architect aren't final.  The design needs to be fully developed for the clients living in space.  That's a key reason to add a designer to your team!  Designers do a deep dive into functionality, livability, layout, and aesthetics.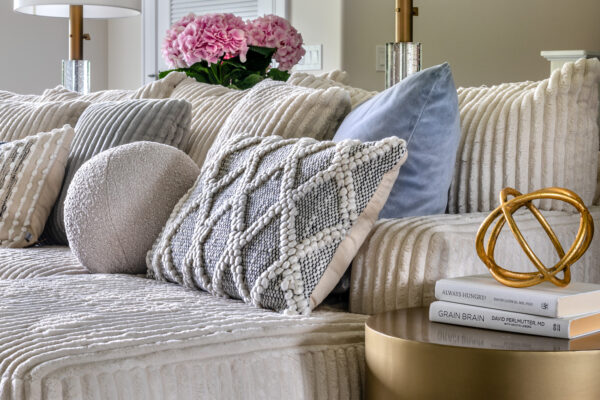 A Private Retreat (a.k.a. Pajama Lounge)
The addition included an ensuite and off of that bedroom is a large living room.  Because this living room is immediately off their tween daughter's bedroom and secluded, I called this space a 'pajama lounge.'  Whether enjoying a relaxing Saturday morning in PJs, or a mini spa day complete with face masks, the pajama lounge provides a cozy, secluded haven.
A Pandemic Challenge
As my clients prepared for the renovation, the unforeseen arrival of the pandemic turned their plans upside down.  Not only did construction incur serious delays due to lack of available supplies but their budget was decimated by the rapid increase in construction materials.
Navigating Furniture Challenges
As we all know, when construction costs increase, the furniture budget decreases.  So, my clients began furnishing the pajama lounge on their own.  Their first purchase was a sectional from the widely marketed company Lovesac ® which specializes in slipcovered, modular furniture.  It was great in concept but ended in a less-than-ideal scenario, complete with bloodied knuckles as my clients assembled the DIY furniture and wrestled with the slipcovers.
At their wit's end, they contacted me for help because in their words "We just kept making one bad decision after another."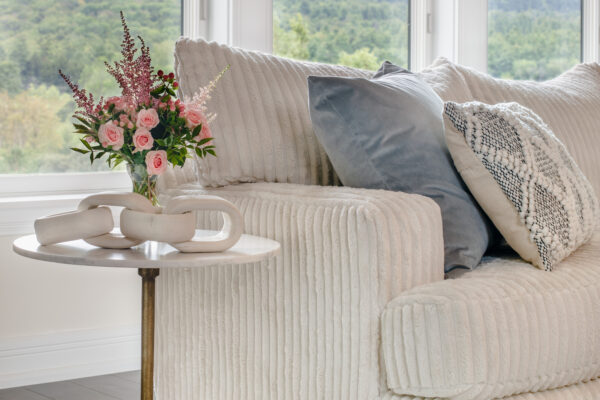 A New Beginning
This project is close to my heart, not only because I did the initial design and finish selections but because their daughter is an absolute sweetheart and a highly accomplished equestrian.  In fact, her pajama lounge overlooks their barn and horse pasture.
Two years had passed from the time we began the project so it was a wonderful opportunity to involve her in the design discovery process.  This pre-teen knocked my socks off!  She provided me with several inspirational photos perfectly illustrating her desire for a cozy boho chic retreat right down to specific colors and pillows she wanted to incorporate into her design!    She served as the muse, providing inspiration, clarity and design direction.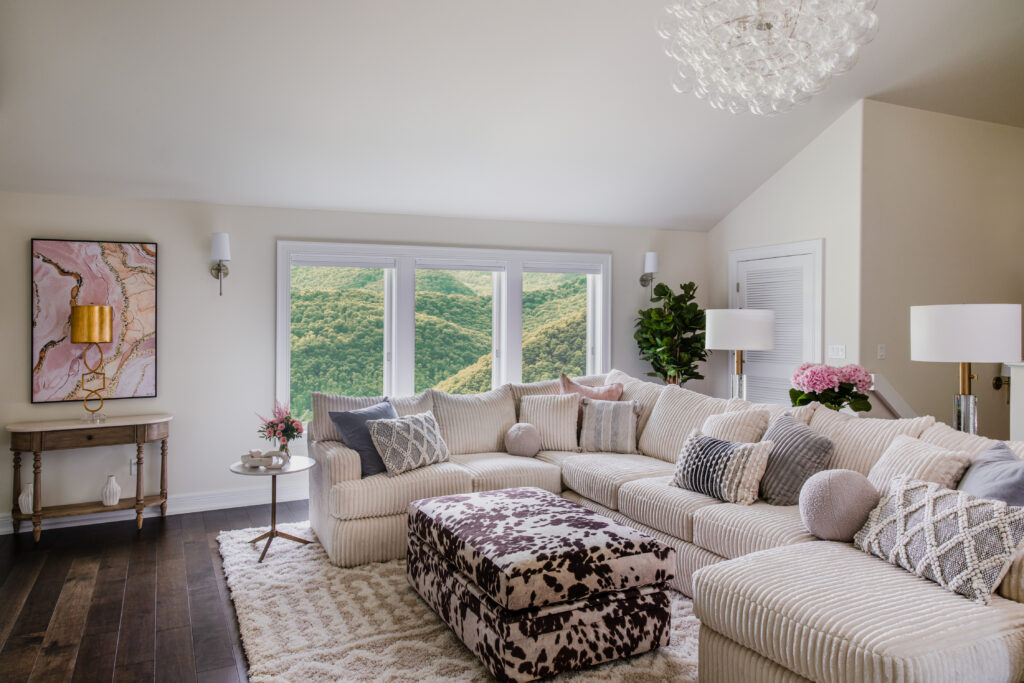 I needed a large chandelier for this room but I wanted something light with a little whimsy and this was perfect.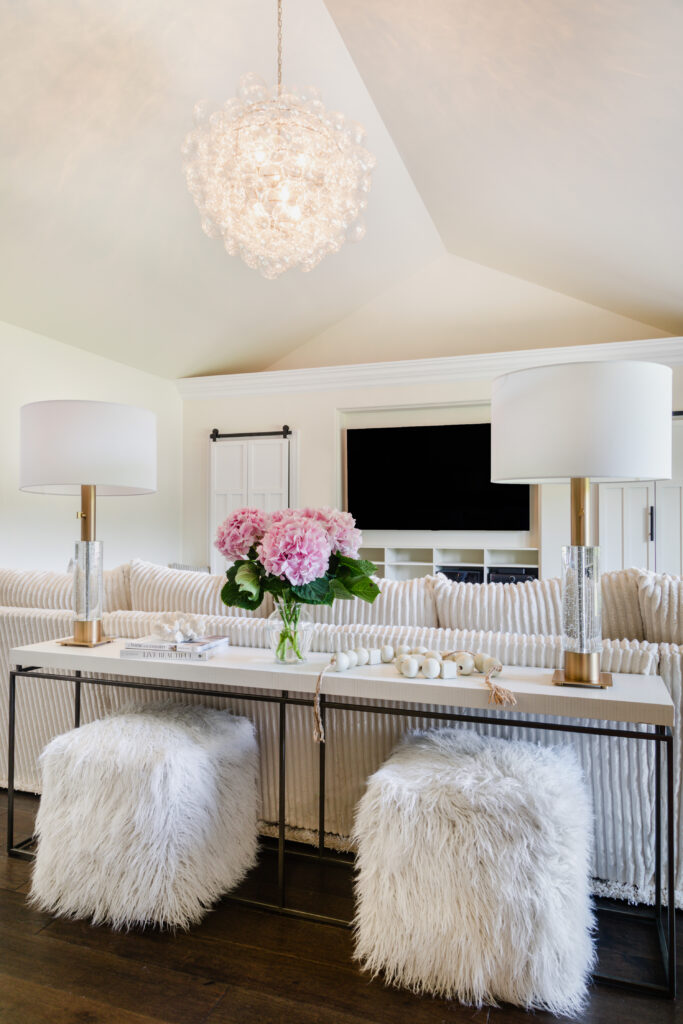 These ottomans are lightweight yet sturdy and can be moved for informal seating during sleepovers.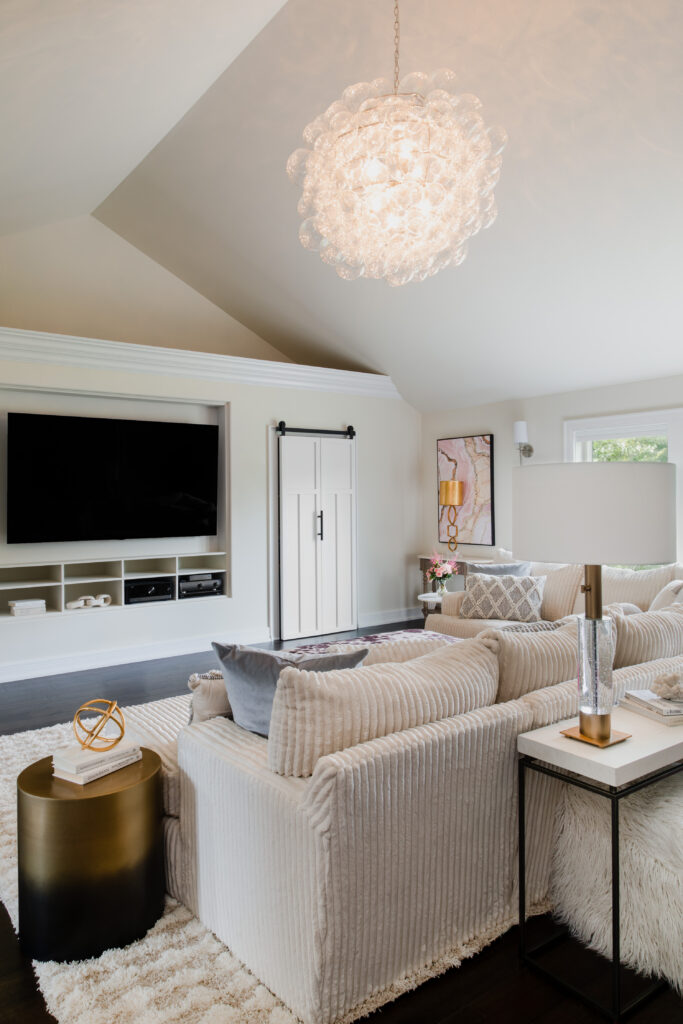 This pajama lounge also offers my client much-needed storage.  The barn-style doors are actually bi-fold doors which require less wall space allowing for a large-screen TV.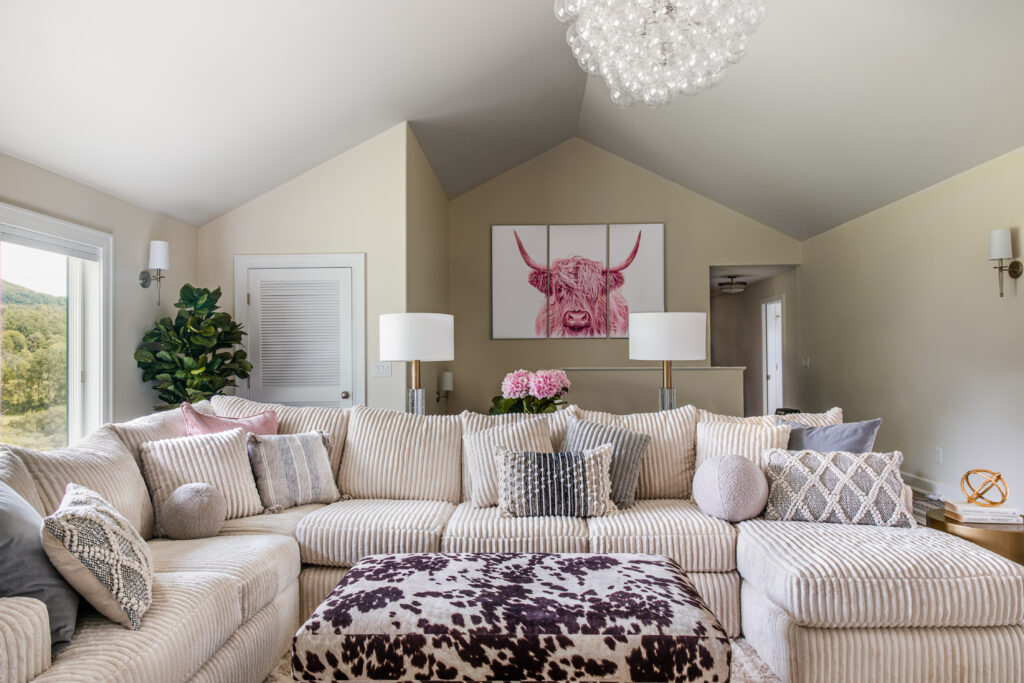 A fun detail: Mom had a highland cow as a child and when she showed me this triptych, in PINK nonetheless, I knew it would be a perfect detail.  It's personal, dynamic, and a conversation starter.
Have a well-designed day,

Collaborators
Architect: NBF Architects
GC: Client (God bless him!!)
Subcontractor: Maxx Building, Inc
Interior Design: Ruxana's Home Interiors LLC
Photographer: Hannah Domas