Did you know that 40% of the paint sold in the United States is to correct PREVIOUS color mistakes? Yep. It's true. A common error people make is selecting the paint color first and then making decisions about the remainder of the room. Although I ALWAYS recommend paint color last, this isn't always possible. For example, new homeowners often want to paint their entire house before moving in and furnishing it.
This is when understanding the magic of undertones becomes your secret weapon. Based on the amount of light and the desired mood of the room, these tips will help you find no-fail neutrals.
Consider Lighting
My client recently painted his garage and when I stopped by he said "Welcome to my purple garage." He had selected what he thought was grey.  It IS grey but because of the purple undertone, it looks purple.  I call paint colors like this "shapeshifters."
Virtually ALL paints have an undertone.  It's very important to look at paint colors throughout the day as the light changes.  As the light changes, your paint color may too!
Use Paint Samples
It's never been easier to test a paint color.  This one simple step will ensure it works before committing to painting an entire room.  Every paint company sells small sample-size paints.  There's also Samplize which sells large samples and an added bonus is they categorize them according to undertone.
I recommend you paint poster board to test, not the walls.  This allows you to move the sample around the room and compare it next to furniture, fabrics and finishes.
Work with Your Fixed Finishes
Your fixed finishes will direct you to the correct undertone.  Your countertops, floor tile and cabinetry will have an undertone and if designed well, they will all share the SAME undertone. Identify that undertone and select a neutral paint with the same undertone for an effortless match.
Embrace Neutrals
If you're selecting paint colors before you have selected furniture, DO NOT use bold colors or accent walls.  You'll regret it and you'll become a statistic of people who have to repaint to correct a paint mistake.
See These Tips in Action
Several years ago I designed a renovated barn and the builder requested paint colors long before we were in the 'Furniture Planning' stage. So I had to select a whole-house color palette that would work FOR us, not AGAINST us when it came time to select the furniture fabrics.   As you can see, the colors worked wonderfully with the materials we ended up using.
I worked with clients on their massive renovation of the historic Heather Mansion, now named Chez Nous.  They utilized our design-only Master Plan service because they planned to shop at antique stores, auctions, and estate sales so we needed a paint palette that gave them flexibility.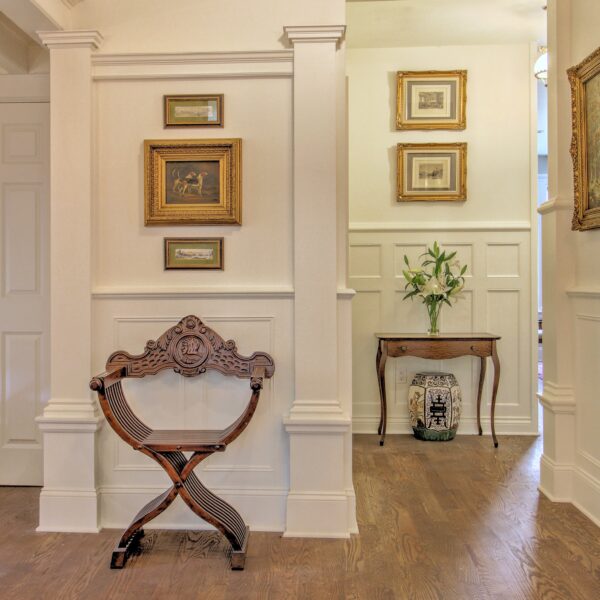 Let's ensure your next paint project doesn't become part of that 40% statistic. Instead, let it be the transformative step toward creating your dream home.
Have a well-designed day,

PIN TO REMEMBER