At a recent client presentation, I explained the importance of furniture construction and my client turned to me and said "You know, that's what no one talks about anymore…..quality."
It's true.  We're bombarded with low prices in the race to the bottom with Wayfair, Overstock, and Ikea.  People think Restoration Hardware is high quality because of their beautiful showrooms and high prices.  Worse, people believe the commercials that promote "Luxe for less."  Nope.  Luxe is luxe and you won't get it for less unless it's lower quality.  It's that simple.
Investing in TRUE quality means you'll buy less, throw away less, and be surrounded by beautiful, classic furnishings. When we do that, we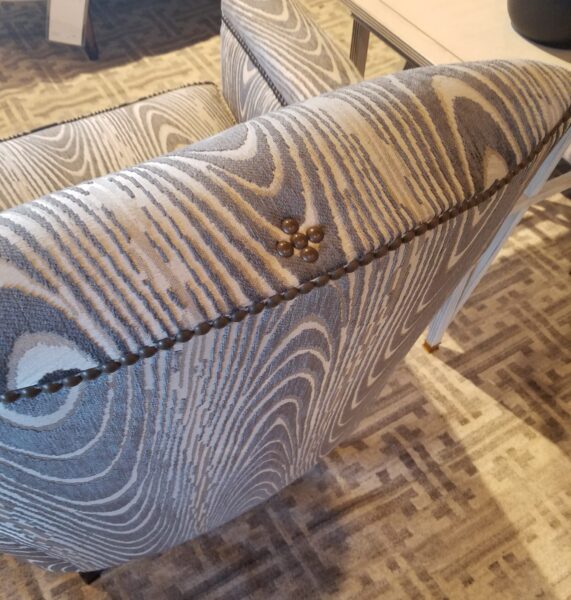 ALL win – Mother Earth, our pocketbooks (because we buy less over time), and the people we welcome into our homes.  Price should not be the foremost thing on your mind when shopping for a sofa.
I was at a furniture store years ago and overheard a salesperson tell a customer that the sofa they were looking at was "upper-end".   It was not. Perhaps it was high quality for their store but by no means was it a high quality sofa.   If you don't have a designer to help you navigate the confusing world of furniture quality, here are some features to look for:
FRAME
The frame should be constructed of kiln-dried hardwood.  You would be surprised to know that some big-name retailers (the ones with the beautiful catalogs you get in the mail) actually construct their sofa frames with particleboard and a few even use cardboard, yes, cardboard!  Be careful, even frames made of hardwood can be poorly assembled.
For stability, all the corners should be 'wood blocked' or have triple dowel joints.  High-quality sofas feature both.  Wood blocking is where a piece of wood is wedged into the corner and screwed into the main frame.
CUSHIONS & PADDING
Quality sofas will never have sharp edges.  The frame will be properly padded.  And the padding will never be lumpy.
Cushions should always be constructed of high-density foam, wrapped in padding and covered with muslin.  If the cushions have down, they should be wrapped in down-proof ticking.
If the back cushions are attached or semi-attached, they should have 'channels' to keep the padding evenly distributed and prevent the padding from gathering on the bottom.
SPRINGS
Hand-tied springs used to be synonymous with quality. Now, low-quality manufacturers are producing sofas with hand-tied spring systems via a 'drop-in' system which doesn't provide stability or longevity so ask specific questions so you aren't misled.
FABRICS
Fabric on sofas should always be patterned-matched.  Obviously, this is only noticeable on patterned fabrics.  Stripes and plaids should be completely aligned and should never be crooked.
Zippers should always be color-matched to the fabric.
Unfortunately, it's a dirty little secret in the retail industry: retailers and manufacturers 'value-engineer' products to reduce costs by purposely taking the quality out of products to make that price point that sells to the mass market.
Let's shift the conversation from fleeting sales to enduring value. Let's cherish the pieces that stand the test of time, both in terms of design and durability. It's time to fill our homes with furniture that resonates with our individuality and contributes to a world where quality and longevity prevail. After all, our homes are more than a collection of mere objects – our homes are the essence of our daily lives, a reflection of our personality, and an opportunity to live our best lives.
Have a well-designed day,

If you found this content helpful, I invite you to the Design Digest a bi-monthly digital journal offering an exclusive glimpse into the world of interior design.
ADD TO PINTEREST TO REMEMBER: