Unless you're an interior designer, no one thinks about countertops unless they're in the midst of remodeling a kitchen or bath. Even fewer people know what to expect when visiting a slab yard.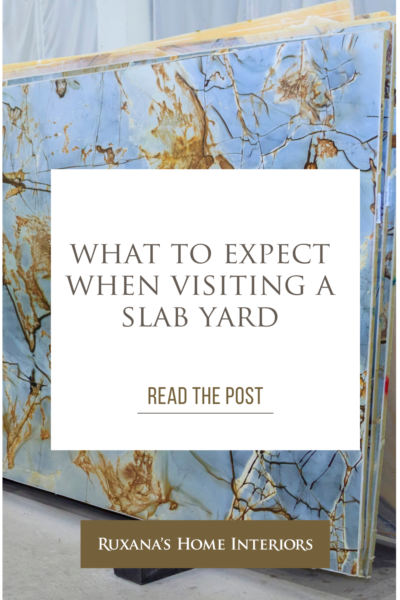 Our design combined with client mandates determines the countertop material I select.  Not only do I specify the countertop material, I specify the profile of the edges, the countertop thickness, and the finish.
Surface choices such as quartz and porcelain don't require much maintenance, which makes them a client favorite and because these materials are man-made, they're relatively consistent and there's no need to select the individual slab.  (However, meeting the fabricator at the time of templating IS important.  I'll explain why in an upcoming blog post.)
If you're using a natural stone, visiting the slab yard to select your slab is an important step. Natural slabs will vary from the samples in a showroom and in some cases, they vary DRAMATICALLY.  Mother Nature is very creative.  The only way to guarantee that there are no surprises is to select and confirm the actual slabs you want to use.
Some stone choices work best for particular applications, such as fireplaces, countertops, vanities, walls, flooring, etc.  Stones, like marble or soapstone in high-traffic areas like a kitchen, require more care, and with wear, the appearance of the stone may change over time. Many people love the patina that develops with use, but knowing my client's overall goals and aesthetics allows me to select the best options.
Each kitchen has something that stands out and says "look at me." It might be the tile, the lighting, and in some cases the countertop material.
Slab yards are a treasure trove of stone options and they offer a breathtaking number of marble, granite, quartzite, and other exotic stones with each slab boasting its own captivating charm.
Your first trip to a slab yard can be intimidating and overwhelming so here are my tips.
Not all slab yards are the same
Some yards are state-of-the-art and entirely indoors. Because I live in central Vermont, some of our slab yards are outside where it's difficult to see the colors on a sunny day and it's muddy on a rainy day. The slabs are moved via forklifts and/or cranes so it's best to notify the yard of the selections you want to view prior to arrival.
Your GC or designer will tell you which slab yards they work with and they will make an appointment for you.  Slab yards do not work with the general public so do not expect anyone there to provide you with pricing.  Your pricing will come from your GC or designer.
Slabs are sold in their entirety so know that when you make a selection, you're committing to an entire slab.  In many of my projects, we require multiple slabs due to the sq footage.  So, if you need a countertop for a small powder room you may want to look at remnants first.
Come Prepared
Please dress accordingly. In summer, the warehouses are COLD and the outdoor yards are HOT.  Be sure to wear comfortable shoes, and bring water and handi-wipes for wiping off your hands and/or shoes as needed.  It's dusty.
Take your time
Visiting a slab yard for the first time can be overwhelming. There are so many choices! Once you decide on the slab(s) you want, take photos of them to help you remember your selections. Bring your drawings so seams, cut-outs and other details can be discussed as you view the slabs.
If you're someone easily overwhelmed by options, consider working with a designer.  Designers can design your entire kitchen or they can simply help you select the finishes, rescuing you from decision fatigue.
Bring all your samples to the slab yard
When selecting your slab, it is IMPERATIVE to bring other elements of your project you've already decided on, for example, a cabinet color, floor tile and backsplash sample.
View your actual slab
If you're choosing a natural stone for your project, such as granite, marble, onyx, quartzite, etc., it's best to view the ACTUAL slab you want to use. Mother Nature is an artist and each slab of natural stone is unique, so the appearance can have tremendous variation. Depending on your design, you may want to look for dramatic variations and at other times, you may want consistency.
First stop or last stop?
It is completely normal to want to see alternative slabs but if you are not clear about your design before you begin looking at slabs, you may be distracted and end up designing a completely different kitchen.  If you KNOW you want a dynamic countertop, then you'll want to visit a slab yard early in your design process.  I designed an entire kitchen around a beautiful, dynamic quartzite I once saw in a slab yard.
Each slab holds a unique story, waiting to add beauty to your kitchen or bath. Whether you opt for the simplicity of quartz or the captivating allure of natural stone, your countertops will stand as a testament to your vision and taste. So, let the adventure begin, and may your countertops reflect not only the elegance of the stones but also the warmth of the memories you'll create in your transformed space!
Have a well-designed day,

Ready to transform your kitchen into a dream space?  Get out of analysis paralysis with The Ultimate Kitchen Planning Guide, your essential tool for designing a kitchen.  This step-by-step guide will take you from the initial design concept all the way through implementation.  With insider tips and over 100 beautifully illustrated pages, you'll wonder how people were able to design a kitchen without it!