"If you can organize your kitchen, you can organize your life." ~ Louis Parrish
What if I told you that your kitchen could help IMPROVE your life?  Taking the time to identify what would make your life easier isn't a luxury, it's just good design.  Our design motto is "MODERN LIVING.  TIMELESS DESIGN." so you'll rarely hear me discuss
following design trends
.  But there are four current trends that will NEVER go out of style and I wanted to share them with you.
Custom Kitchen Design
When it comes to kitchen design, most people are familiar with double ovens, but there are other options that are worth considering.  Have you ever thought about incorporating double dishwashers, double refrigerators, or double islands into your kitchen? At our firm, we prioritize understanding our clients' needs to create customized designs that cater to their specific requirements. The idea behind 'doubling down' is to make daily tasks more convenient and efficient. Instead of being burdened by endless piles of dishes, clients want the convenience of having two dishwashers. When space permits, double islands provide a space to prepare food, serve food and they offer a ton of additional storage and seating.  In situations where space is limited, built-in banquettes can offer a clever solution.
We firmly believe that thoughtful design should identify items that enhance your daily routine and make our clients lives easier.
Mix and Match
Because we're an interior design firm, we never look at the kitchens in isolation, we view kitchens as an extension of the home.  Our kitchens integrate seamlessly with the rest of the house.  So many renovated kitchens look like they were plucked straight from a generic showroom and plunked down in a home.  We embrace a thoughtful integration of finishes and materials and look at the house holistically and we steer clear of cookie-cutter designs found in kitchen showrooms all across America.
Our approach revolves around incorporating a harmonious mix of layers and textures. We mix elements like dark and light tones, shiny and matte surfaces, as well as painted and wood finishes. By carefully blending these elements, we achieve a timeless design that captures our clients' individuality and infuses their personalities into the heart of their home.
We transform these spaces into cohesive extensions of the surrounding environment. The result is a kitchen that seamlessly integrates with the overall design, creating a sense of continuity and flow. Our designs transcend passing trends and instead, reflect the timeless beauty and personalized essence of our clients' homes.
Say Goodbye to Kitchen Clutter
The pandemic has had a profound impact on our clients' preferences, leading to a surge in requests for larger pantries and more efficient storage.  Butler pantries and ancillary prep areas are much more common.
We're all acutely aware of the negative effects of visual clutter and a well-designed kitchen means counters are clear, small appliances have designated spaces and the monthly Costco haul is in the pantry, out of sight.  This doesn't just look better, but it promotes a sense of calm and ease of use.
Functionality alone is not enough. Our clients want pantries that are not only practical but also attractive. Thankfully, there's a plethora of functional and pretty baskets, bins, and containers on the market to accessorize pantries.
By addressing clients' evolving needs, we create kitchen and pantry designs that enhance daily lives and bring a sense of order and beauty to clients' homes.
Mind your Mother
We're all more environmentally conscious these days, as we should be.  Our clients are increasingly seeking sustainable solutions. They want to invest in cabinets that won't end up in a landfill within a decade and they're making decisions based on their commitment to the environment.
One key aspect of sustainable kitchen design is the integration of dedicated spaces for recycling and composting. Clients recognize the importance of waste management and want to ensure that their kitchens provide convenient and efficient solutions for proper disposal and recycling of materials. By incorporating designated areas for recycling and composting, we enable our clients to actively contribute to reducing their environmental footprint.
There's a surge of new appliances on the market that minimize waste, energy consumption, and plastic usage. Appliances like Zipwater, which offers carbonated water on tap, present a convenient alternative to single-use plastic bottles.
Have a well-designed day,

 PIN FOR LATER:
IfI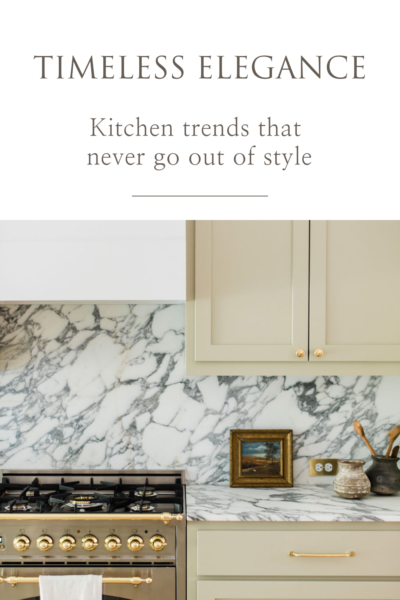 If you're planning a kitchen renovation or remodel, you'll want our Ultimate Kitchen Planner to walk you through each step. This illustrated planner has over 111 pages and is a wonderful tool to keep you on track and out of overwhelm: I NEED THIS PLANNER!