Summer has arrived, and with it comes the benefit of outdoor living.   My husband and I just finished finalizing our plan for our backyard.  Designing an outdoor space is very similar to designing an indoor space.  An added bonus – you can increase our living space without a complicated remodel!
Spending time outdoors provides a host of health and wellness advantages.  Intentional and thoughtful design creates well-being, inside or outside.  Sometimes the most effective solutions are simple….like embracing nature for all of her health benefits.  Not only does re-imagining our yard increase our space to entertain and relax but being outside has been proven to boost immunity, increased energy and enhanced creativity.
There are five essential steps to designing a yard that serves you and your family.
Identify your goals
Designing an exterior space is very similar to designing an interior space. The first step is to identify your goals. Do you want to sip your morning coffee while watching the sunrise? Do you want a hot tub for relaxing after a day on the slopes?  Do you want a fire pit for gazing at the stars? Or do you want all of these?
Here are some things to consider as you identify your goals:
Think about sipping your morning coffee in the garden as you write in your journal.
The soft sounds of a water fountain as you relax in the evening.
Do you know the many health benefits that relaxing in a hot tub provides?
Fresh vegetables from your garden for a salad?
Are you trying to increase quality time with those who matter most?
Want a colorful garden to paint 'en plein air'? Or perhaps you've always wanted to learn to garden?  What about learning to master the art of flatbread pizza in an outdoor pizza oven?
Time in nature (even in your backyard) is time well spent. A bonfire with s'mores is the perfect way to end the day while watching an outdoor movie with the grandkids.
Property Analysis
The second step is a property analysis.  Your yard should be studied to identify areas of shade versus sun and the times of day they occur. Pay attention to dry or wet areas, as well as natural limitations such as slopes, inclines, and stone.
Identify Outdoor Zones
The property analysis will help you determine the best zones for the items you identified in the previous two steps. 
Your wish list may have a hot tub, dining area, fire pit, and covered gazebo by a pond. These are all distinct zones and the size of each area depends on the number of people you want to regularly accommodate. 
Traffic Patterns
The next step is to identify the traffic patterns you want to create between the various zones.  Once you determine that, then you can make more specific plans.  Do you want a structured path with flower beds and paving stones?  Are you trying to diffuse strong winds?  Do you want to create some privacy from your neighbors?
Focal Point
The final step, which also happens to be the most fun, is to decide on focal points. Each zone (like a room in a home) can have its own focal point but not if the zones are too close together.  Clients have heard me say "You can't have two Divas in the same room." You want to create little vignettes that are carved out in the yard.  Design each space to be intentional and welcoming and, yet, when viewed together (as you would look into your front or back yard) are symbiotic and unified. 
I consider myself extremely fortunate to live in Vermont.  You don't need to live in the Green Mountains, though, to enjoy the many benefits of being outdoors, you simply need to step into your yard.
Get design resources, tips, and special offers delivered every two weeks. Stay connected with our DESIGN DIGEST.
Have a well-designed day,

PIN FOR LATER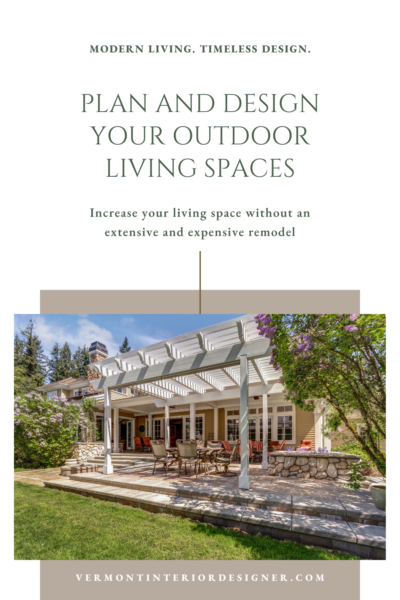 This post contains affiliate links. When you purchase an item through one of the affiliate links, Ruxana's Home Interiors LLC may receive a small referral commission at no additional cost to you. Shopping via affiliate links supports our mission and our ability to provide YOU with fresh content and free resources. We are committed to honesty and we only partner with services & products that we use and trust. I appreciate your continued support. Truly.