I was born to be a designer.  The only problem is, I didn't come to that realization until AFTER I entered college as an English Lit Major.  As an Lit major, you read: A LOT. Most weeks you read 4-6 books at a time.  So, it was always a joy to read short stories.  One of my favorites was Eudora Welty's 'Why I live at the PO'.  That title always intrigued me…it makes you want to read the story JUST to find out why ANYONE would want to live at a Post Office!
Architecture
Our post office moved locations (across the parking lot) late last year and the new location is in an Art Deco building.  The exterior features glazed terra cotta blocks in colorful geometric patterns and verde antique marble insets.  It's purportedly Vermont's only Art Deco building.  The move was necessary for efficiency and ADA compliance.
The space remains the lobby for judicial court but I sure do miss waiting in line in our beautiful ole' post office.   You entered the building via a marble staircase and the lobby was filled with murals, detailed moldings, a welcoming blue painted ceiling and dark mahogany wood accented by brightly polished brass.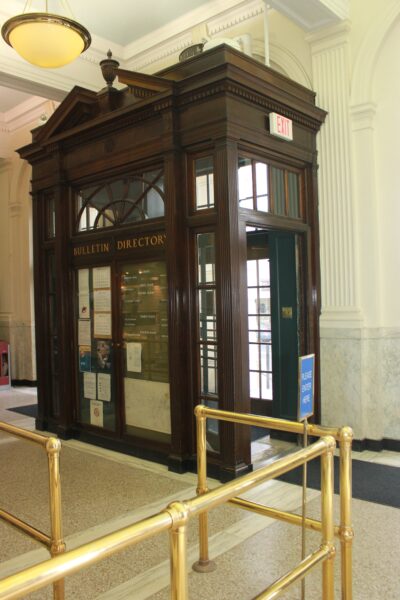 Murals
There are a series of murals by a Vermont native (Bellows Falls), Stephen Belaski.  The oil on canvas paintings share the same historic subject matter, a theme of freedom & unity: Ethan Allen (the leader of the Green Mountain Boys during the American Revolution…..NOT the furniture store)  an assembly of mountain fighters, the flogging of a NY landgrabber by Vermont landowners, the freeing of the first slave in Vermont, and Benedict Arnold aboard his ship on Lake Champlain.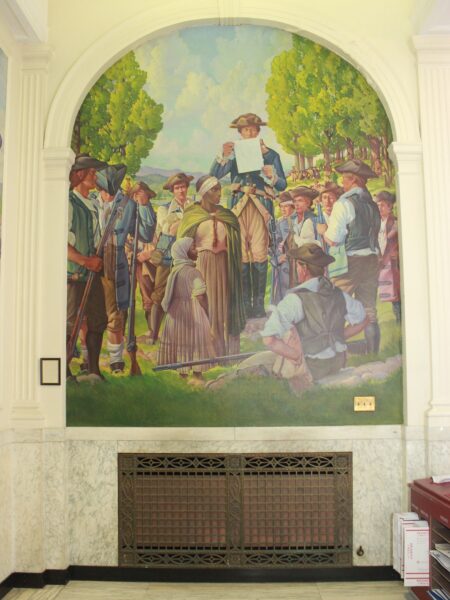 History
Painted in 1937, these murals — part of an artistic movement inspired during the 1920s and '30s are one project of the more than 200,000 artworks commissioned during the Depression years as part of President Franklin D. Roosevelt's New Deal. New Dealers believed art should be accessible to all and, according to wpamurals.com, "certain visionary U.S. politicians decided to combine the creativity of the new arts movement with the values of the American people."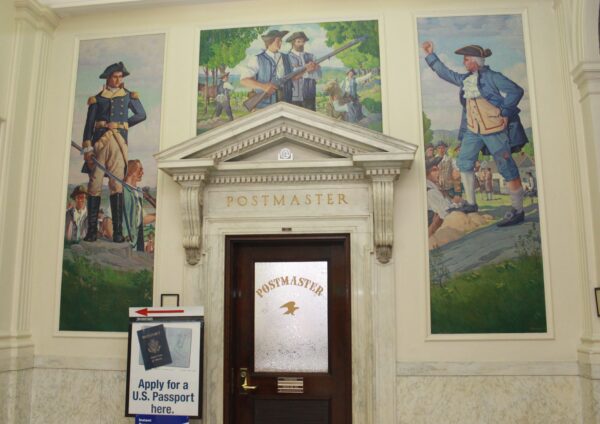 We are entering an economic period of uncertainty and I would be delighted to see a similar program employing artists and uplifting spirits along the way.   Murals such as those proudly displayed in our former post office, are a "reminder of a time in our country's history when dreams were not allowed to be destroyed by economic disaster."
Have a well-designed day,