Are you thinking of renovating a guest bath this year?  Consider adding one or more of these elements that we've employed in recent projects.  They add a touch of luxury and are gratifying upgrades.
Under-Vanity Lighting is a great way to soften light but it's also highly recommended for clients aging in place.  Plus, your guests will appreciate not having to stumble down the hallway.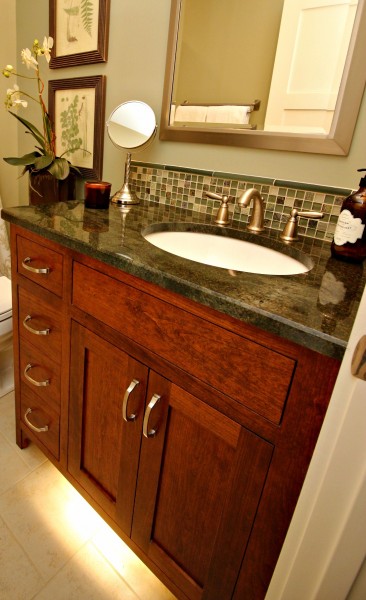 Some say that using a heated towel bar and radiant heat are no longer luxuries but a necessity (#firstworldproblems, I know.)  But….have you considered adding radiant heat to your built-in shower bench?   It's oh-so-welcoming on cold winter days.
Not everyone wants to invest in a luxury toilet but we've had clients add Toto Washlets(c) seats with great success.
We design all of our spaces with universal accessibility in mind which is especially important in bathrooms.  Handheld showers and easy-to-grip lever faucets suit people of all ages and abilities.  But planning permanent features early in a renovation is imperative. Grab bars should be secured to blocking between wall studs and placed 33 to 36 inches off the floor. Other things to consider: a barrier-free shower, a wider doorway, and of course, a comfort-height toilet.
Have a well-designed day!