If you follow our Instagram stories, you'll know that we have a game room we're updating. It's a dark, wood-paneled room and we're painting it a rich blue. Every tradesperson has questioned me, but when my clients saw our color scheme and rendering they said "Let's do it!!"
Paint is very complex – one has to consider light, sheen, surroundings, and undertones. As a designer, part of what I provide is education while the other part is COURAGE.
Color preferences are very subjective, and there are many color myths out there so I'd like to break a few down.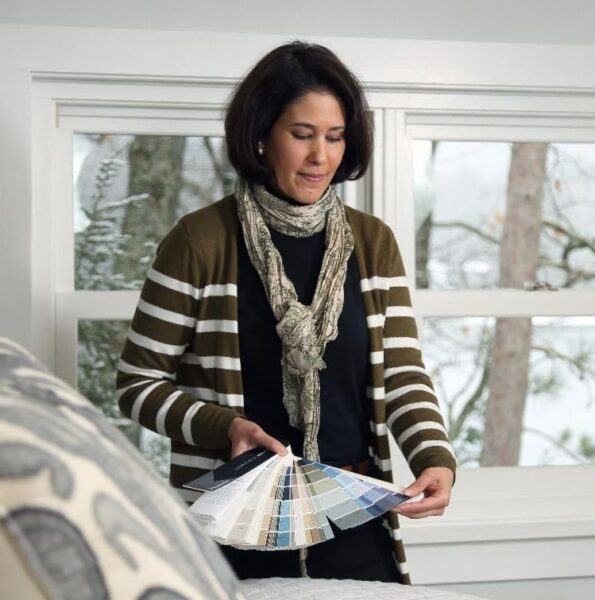 Myth: Dark colors make a room feel smaller.
I've used
dark colors
in all sized rooms, and have not found this to be true. What makes a room feel small is a severe contrast in color because the contrast highlights the size of the room. Currently, we're painting the game room a dark blue, and our sofa will have a textured blue performance fabric in a similar shade, so they "blend."
This of course also means that light colors don't necessarily make a room feel bigger. Again, contrast impacts this perception.
Myth: When decorating, pick your paint color first.
No, no, no! Did you know that 40% of the paint sold in the United States is to correct PREVIOUS color mistakes? Yep. It's true. A common error people make is selecting the paint color first and then making decisions about the remainder of the room. Design elements are built upon one another so it is important to have all the materials available before making selections. Paint is the LAST decision made in a design project so I recommend deciding on all the other elements prior to selecting paint colors. Paint is available in ANY color. If you can't find the color you want on a chip, a paint store can custom mix a color to match anything.
Although I ALWAYS recommend
paint color last
, this isn't always possible. For example, new homeowners frequently want to have the entire house painted BEFORE they move in and furnish the home. I have mastered the art of selecting no-fail neutrals that work with just about anything – and I base it on the fixed elements of the room, the natural light, and the mood my clients want to create.
Myth: If you like the color in the store you'll like it at home.
Please, please, please do not go to a paint store, pick a color from a chip and go home with a gallon of paint. There are soooo many reasons why this should not be done. The first is that a tiny paint chip cannot begin to show what an actual paint will look like on walls in a house.
Every color looks different in every space. A room's light, floor color, furniture, and surrounding room colors will impact how a color looks on its walls. Undertones appear very different in the fluorescent lights of a store than they do in one's home.  Do yourself a favor and invest in sample sizes of your favorite contenders. Paint cardboard (or buy
THESE
) and move those samples around the room. Does the colorwork with the furniture? Flooring? What does it look like at night? Morning?
Paint can unify or it can detract. In the words of Paul Rand: "Design is so simple, that's why it's so complicated."
Have a well-designed day,