When designers, decorators or furniture retailers talk about 'market,' they aren't talking about their local farmer's market or grocery store. They're referring to High Point Furniture Market in High Point, North Carolina.
Earlier this month, when I journeyed to High Point, I had a shopping list for current projects, and I wanted to find new vendors and to keep an eye out for hidden treasures – the ones that pop up unexpectedly.
As a designer who focuses on timeless design, I'm less interested in hot trends, but I do recognize the importance of keeping up-to-date with the design world at large.  This year I discovered the trends are less about "what's new" and more about "what's new, again."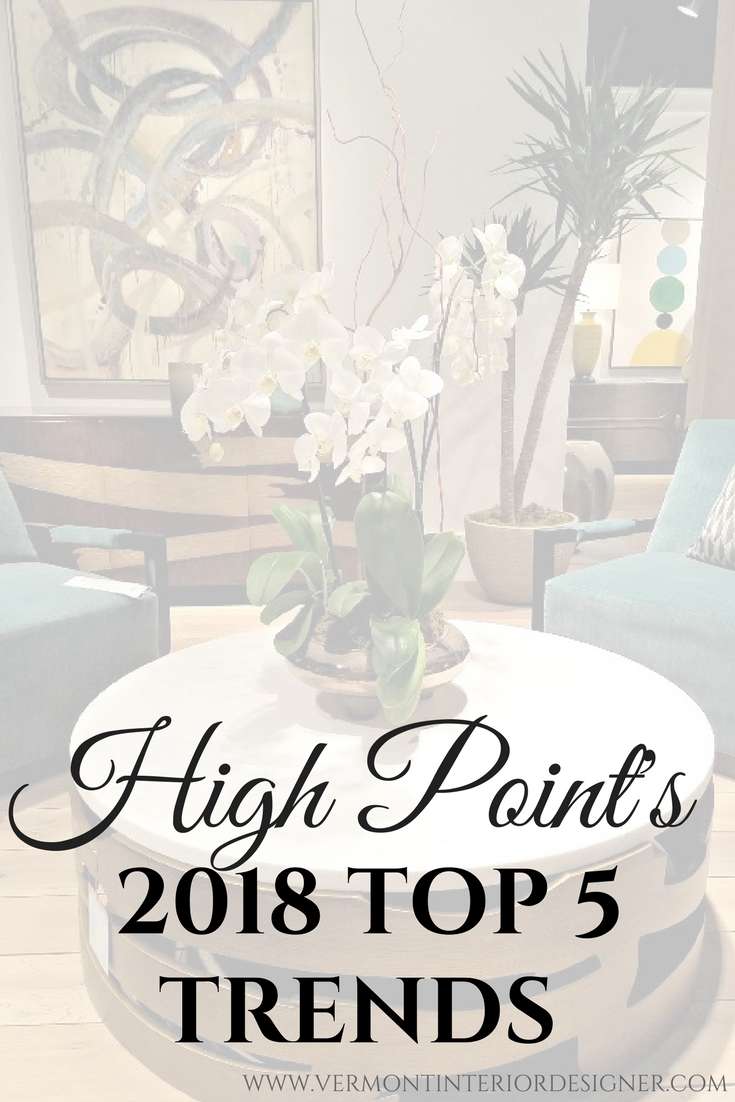 RETRO & VINTAGE INSPIRED
I saw a lot of pieces that were clearly inspired by the past.  This sectional (by the way, sectionals were EVERYWHERE at High Point) has sloping, curved arms and lots of loose pillows.  This style carries influences from the 1960s and 1970s.  Also note the low media credenza in the mirror – reminiscent of the same time period.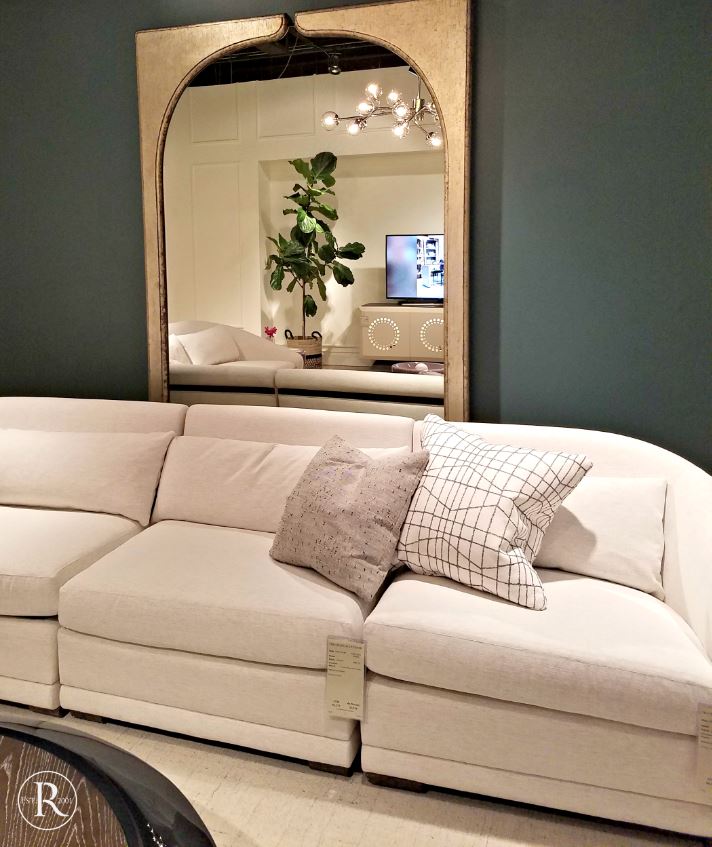 This bar cabinet has a popular motif, a distinct Chinoiserie design.  Chinoiserie began in 1800's France – what's old is new again!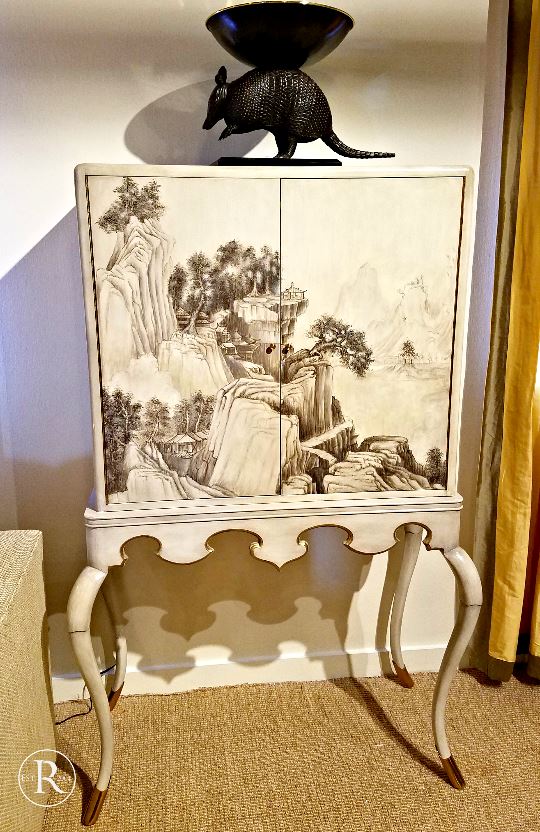 METAL
Metal was VERY popular at High Point, especially brass and gold.   Not only was metal in hardware, lighting and accessories, it was also incorporated into furniture.   You can see it below on the credenza (gold brush strokes) as well as the base of the round table.
This credenza has beautifully mitered brass trim detailed with screwhead details, which is reminiscent of the jeweler Cartier.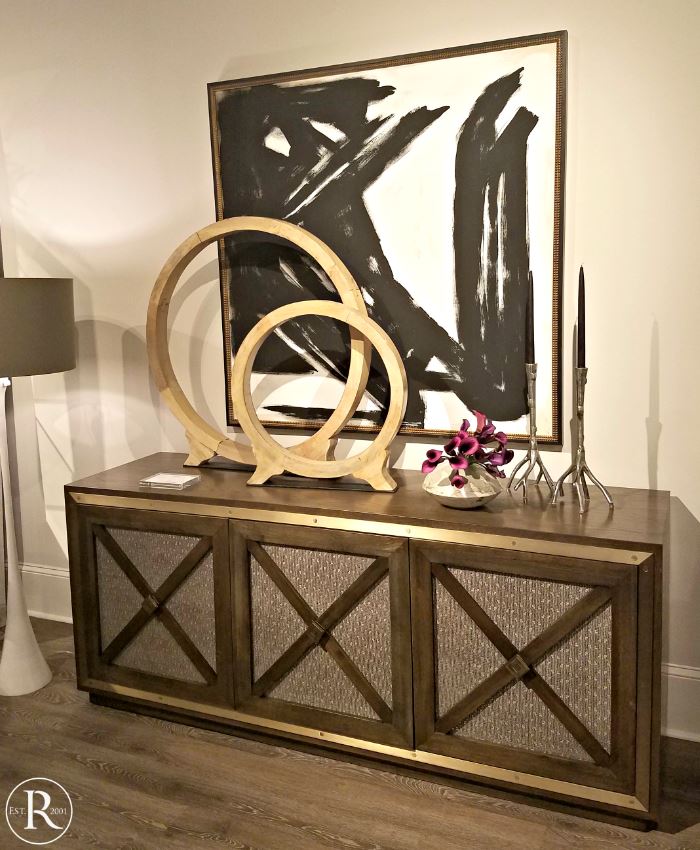 TEXTURED TABLES
Most likely we will be seeing many textured table tops over the next few years.  Herringbone details were everywhere – as seen in this extension dining table by Theodore Alexander.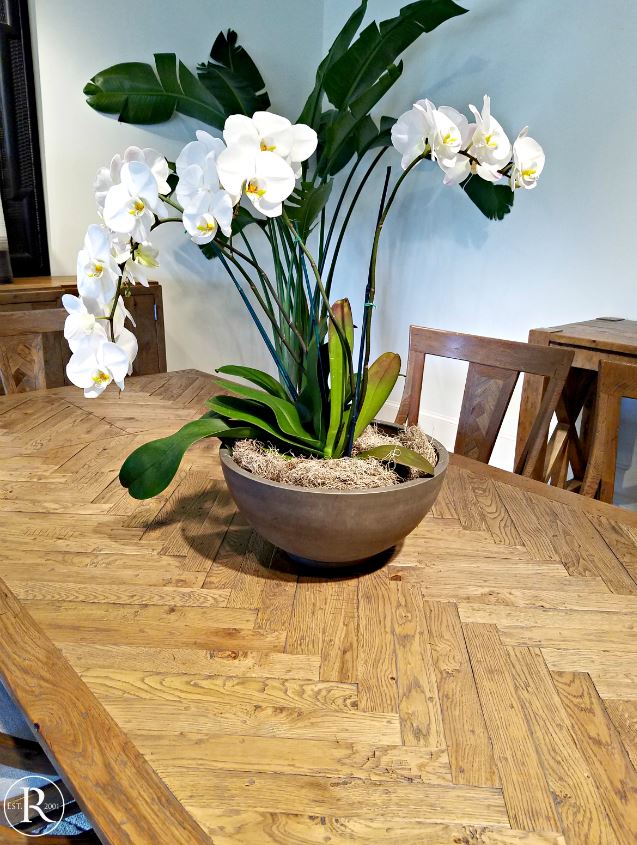 Another way manufacturers incorporated texture was through stone.  They used solid stone, stone inlay (seen below) and even porcelain table-tops that looked like stone.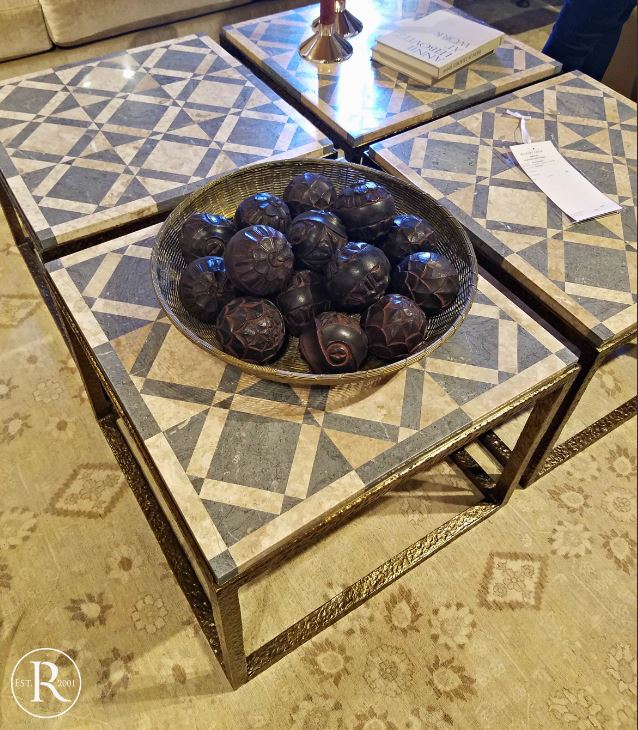 Also see the round, stone-topped table from the METAL section.
NEUTRALS
Neutrals are back in a BIG way!  We saw it after the 2008 recession when gray took over.   In times of uncertainly, we crave calm in our homes and one way to create that ambiance is through the use of neutrals.  This time around it's beige and not gray.  The grey trend began almost ten years ago and it appears that grey has reached its saturation point.  So, the Restoration Hardware gray-everything look is OVER.   A direct result of our craving non-gray neutrals is that beige is now fresh, warm and even sophisticated.  So, yes – beige is back!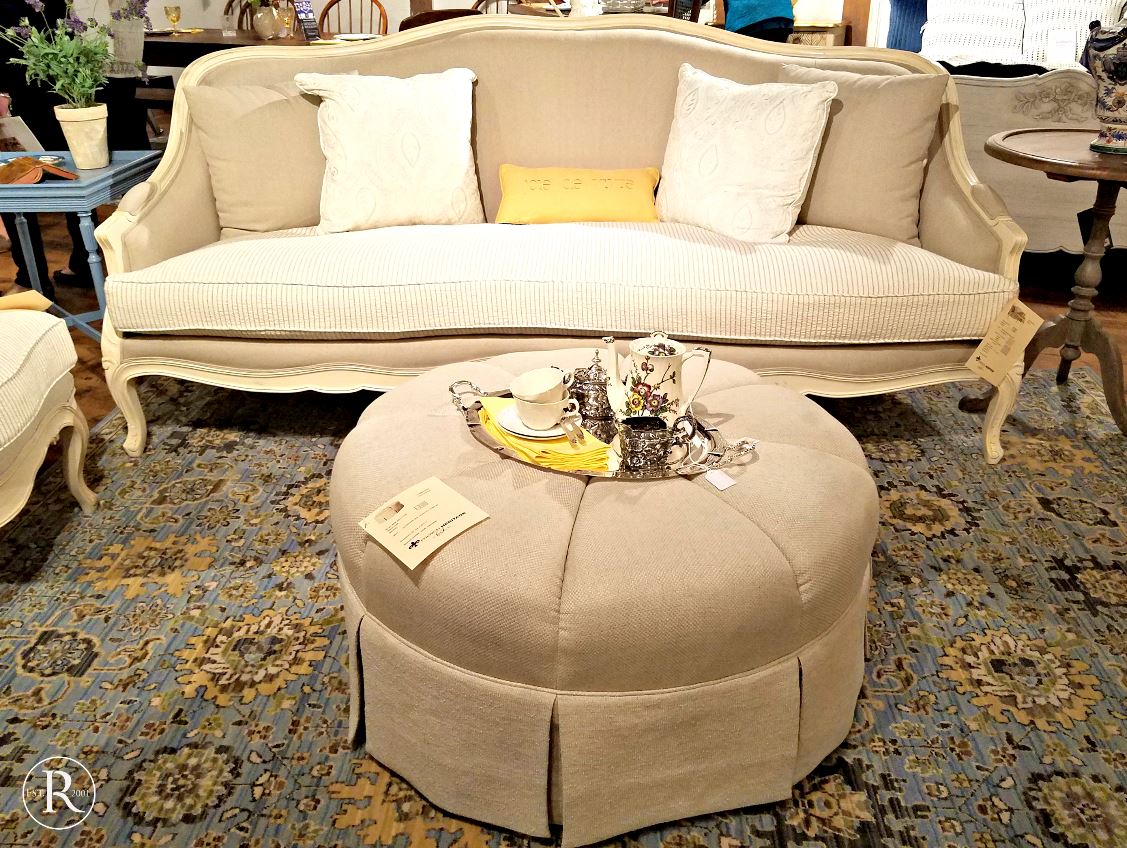 GEOMETRICS
Geometric shapes are timeless – think of the Greek key pattern (seen on the base of this vanity) and the updated, modernized chain-link of the mirror.  Also, note the metal base.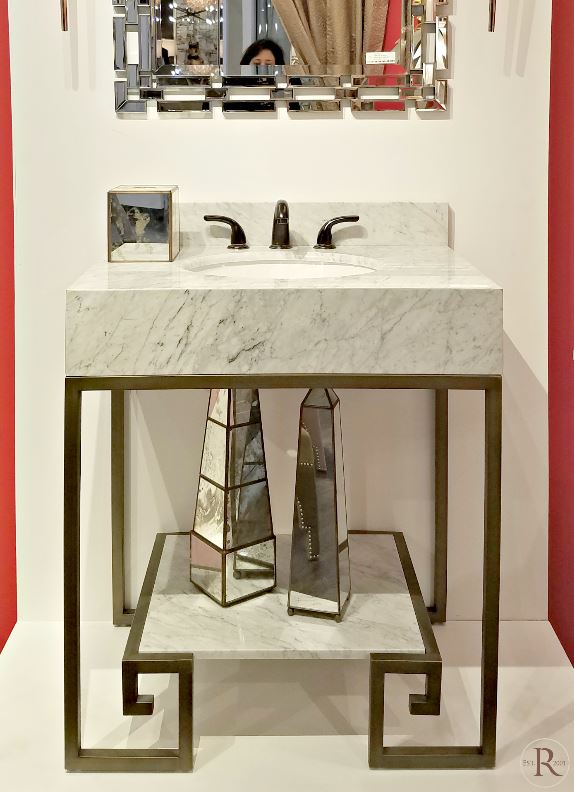 I saw several vignettes that used a series of smaller tables to create a coffee table or side table.  While this might work in some homes, my clients often have children, grandchildren and happy wagging tails that will make small tables crash in a nanosecond.  But I did love this sweet honeycomb table set.  It's perfect for people who need flexibility or entertain frequently.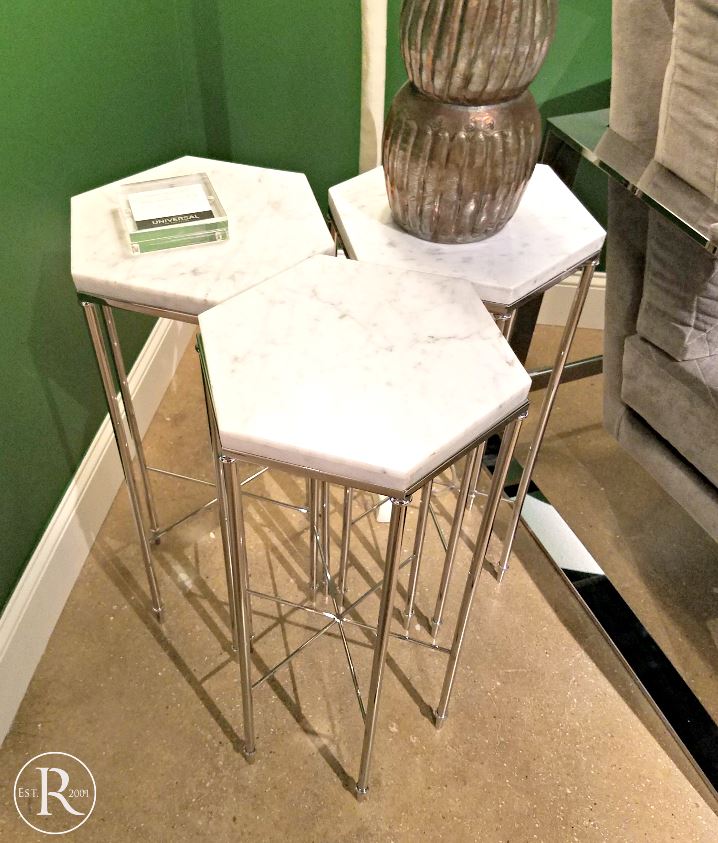 Note the stone top (marble) and metal bases, not just the on tables but also the adjacent lounge chair.  Also see the distinct X pattern with square knobs of the credenza under the METAL section.
After visiting High Point, I'm excited to provide clients with fresh, newly released products that are still classic.  We've already started incorporating a few of our favorites from this year's trip into projects. Stay tuned to see how we use these trends in new spaces!
Have a well-designed day,