If you've booked an Introductory Chat or Design Consultation with us, then you're familiar with our scheduling software: Acuity.  Clients LOVE this software!  They have access to our firm's calendar and can schedule their meetings anytime day or night.  
Although I love the software, the autoresponders and reminders I created within the software lack inspiration and polish.  The fonts are inconsistent and things are just UGLY!  So last Friday I scheduled a video meeting with Stephanie, a tech genius and Acuity professional.
Stephanie began the meeting by reviewing all our firm's emails – including the confirmations, reminders and follow-ups.  Multiply this by our every step in our design process PLUS the various services we offer, and this adds up to A LOT of emails!   

Stephanie began to explain: "Oh, you entered your copy in the block format, so you need to go to the back end and enter things in HTML.  Then you can create static links on your website and ……"  I'm not sure what else she said because all I heard was 'Wha wha wha wha wha wha' from Charlie Brown.  
"Stephanie," I interjected.  "I'm not planning to do this myself.  You're the professional.  Since you know what needs to be done and how to do it, you'll be five times faster." 
Then we quickly agreed upon a solution.  I'll write the text and she'll do everything else.  Hallelujah!  
Rather than a DIY person, I consider myself more a DIFM – DO IT FOR ME.  I know my strengths, and spending countless hours on coding email reminders is NOT one of them.  Enter: Stephanie!  She's efficient, tech savvy and incredibly sweet. 
Gay Hendrick, in his book The Big Leap, talks about spending as much time as possible in one's 'Zone of Genius' and then delegating the rest to others.  My 'Zone of Genius' is running a design firm.  We provide inspiration for our clients while they dwell in their own 'Zones of Genius.'  What a perfect solution!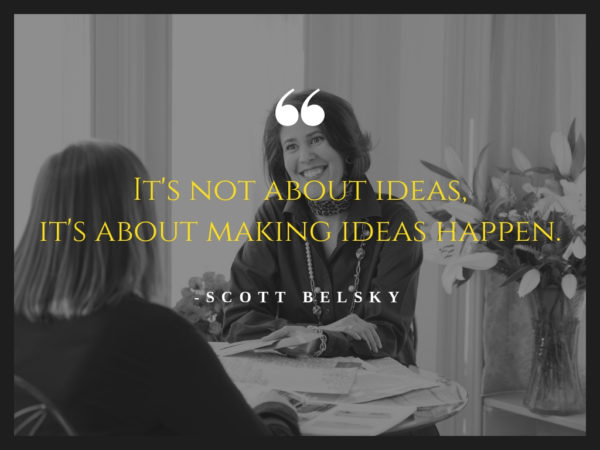 If you'd like to spend more time in YOUR 'Zone of Genius' and less time fussing with your house, give us a call and see how we can help. 
Have a well-designed day,